Sean's 74 Trans Am Page
---
---
The picture below, is a stock 74 Trans Am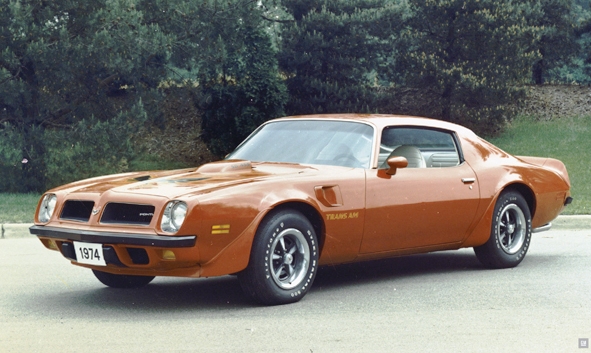 ---
1/4/2012 I bought a 1974 Trans Am on Ebay for $890 + $1225 for transport from Nebraska. I have to check it out when it arrives. I was told a 400ci, with automatic. It had a '77 nose on it.
---
3/7/2012 New project car arrived, very dirty from being on transporter.
---
3/172012 Started taking the front end of car, getting ready to pull engine.
---
3/24/2012 pulled engine out
---
Started body work on fender.
---
3/31/2012-4/22/2012 Continued with body work on quarter panel, and under door.
---
4/22-29/2012 More body work
---
May 2012 Body work on Right Front fender.
---
6/16/2012 Primer on car
---
July-Sept 2012
Took off the A arms cleaned and put new bushings in. Sand blasted and painted calipers. Reassembled Arm, put on new ball joints, and wheel bearings, with new rotors.
Also new brake pads, body bushings, sway bar bushings, and put all back together.
---
Sept 2012-Jan 2013
Pulled the engine out of the 75 Formula 400 parts car, and refreshed. Painted engine and put it in the 74 Trans Am, put front end back on with new core support bushings.
---
Feb-May 4th 2013
Bought a Edlebrock 600cfm Carb, and Performer Intake and put on the engine, put 75 front end on. Hood that came with the car was for a 77-81 and I had to buy a 70-76 hood and cut the shaker hole in it. Took about 6 hours to cut the bracing off the inside of the hood and cut the hole and form the lip to roll over. Looks pretty good actually. I bought a rusty 70-76 TA hood to cut the bracing out and shaker hole out and weld it in new hood, but just cutting shaker hole worked out way better than I could of hoped for. I guess it's true, take you time and do it right. Pics below of hood. First pic is rusty hood to cut bracing for shaker and around shaker hole., next pic is good hood, with shaker hole cut out using plasma cutter, 3rd pic is after the edge has been rolled over like factor TA hood.
---
July 2016
It's been a while since I've made time to work on the car, but I have done some body work to hood and front end, tore out the interior getting closer to paint.
---
June 2017
Sanded and Primed car.